Released on June 11, 2022 (version 12.3)
Welcome to the spring 2022 release. Primary enhancements are a global duplicates check and Slack integration. There is also two new file formats that have full support (.3fr and .jfif).
Global Duplicates Check
While a duplicates check during upload is the best place to for avoiding duplicates, having a means to check the entire collection can be useful in many circumstances.
To perform a global duplicates check, from DBGallery's main menu go to Tools | Global Duplicates Check.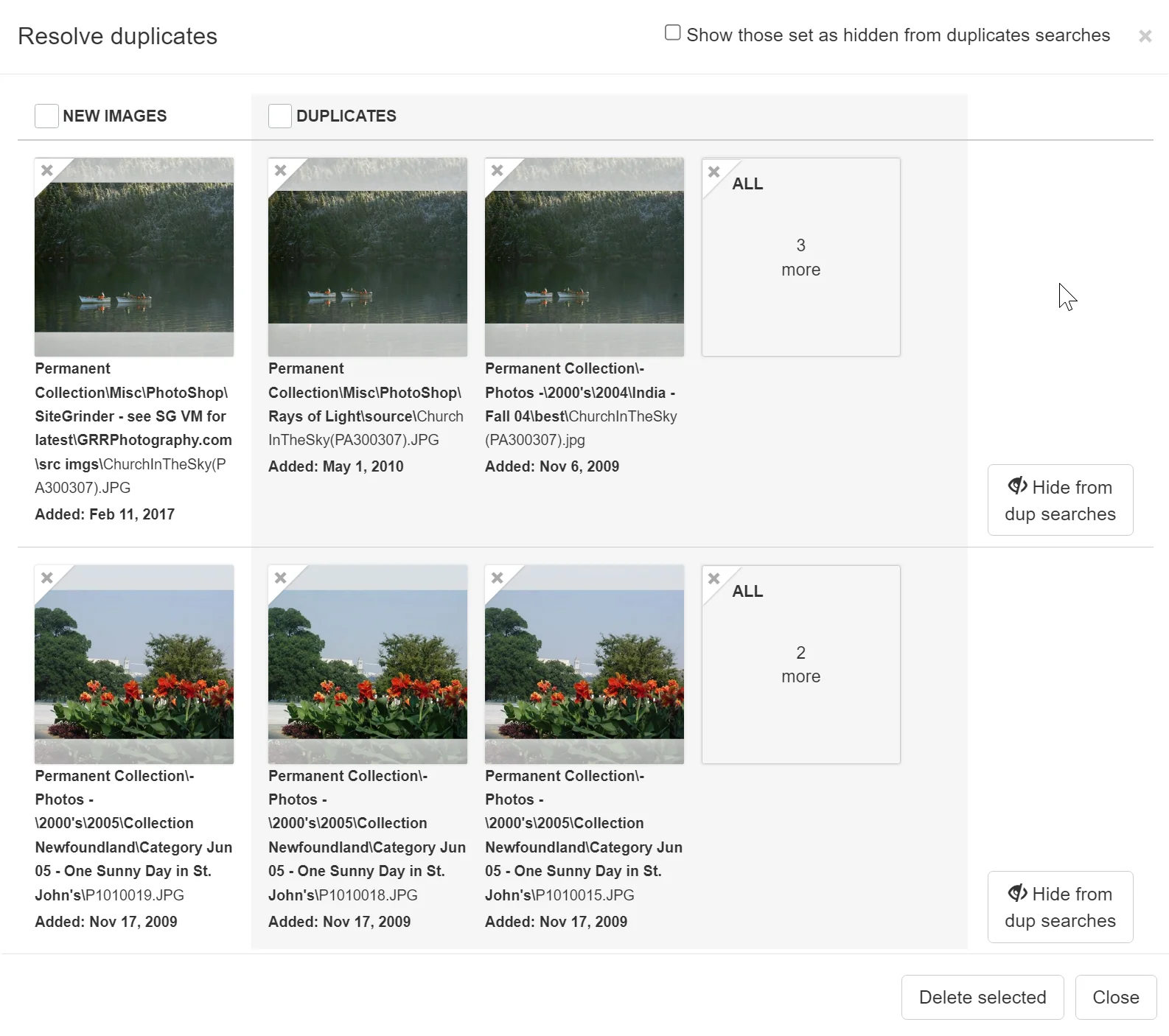 Facts of note for the new Global Duplicates check:
It is very fast. It typically takes only seconds across 100,000's of images.
It uses Date Taken as the check. Not many collections have images taken the exact same second which wouldn't be a duplicate'.
There is an option to ignore a group of duplicates in case they're valid or need to be kept around while it's decided what to do with them. See the "Hide from dup searches" button in the above screenshot.
For a full look at duplicates in DBGallery, see Duplicates Detection in our Knowledge Base or our excellent Avoiding Duplicate Images blog which includes avoiding duplicates in the first place.
Slack Integration
DBGallery integrates with Slack to let users search across their entire asset collection directly from Slack. Results may then be shared to channels or direct messaged to your Slack contacts. It's very convenient for teams which use Slack regularly. While this feature was quitely released just prior to June, it is included here because it was quietly released with without this Recent Updates popup notification.
See Slack Integration in our Knowledge Base for full details.

Data Display and Export Tweaks
License and Expiry notes can be displayed under and above thumbs in the main gallery view. Workflow Status can also now be shown in both these locations.
License Expiry Note is now exported (Expiration Date was previously) and can also be imported.
Other enhancements
Added full support for two new file formats: .3FR video and .JFIF photo. See File Formats for the full list.
---