Released on October 10, 2021 (version 12.0)
Key highlights in this release include improving the organization of collections, upload improvements, enhancing the style of the sidebar tree, performance optimizations, and other smaller but important changes.
Collections management upgrade

Also known as Virtual Sets, we've added some features to Сollections, making them easier to use and manage:

Collections can now exist without belonging to any group! Clients have indicated that requiring that a collection has to be within a group was unneccessary and confusing, especially when getting started with DBGallery. Of course collections may be added to a group any time. For an example, see the "Standalone set" in the screenshot to the right.
Drag and drop collections to other groups.

Note: No changes have been made to the existing collections and their structure. If you use Groups they will still be there.

Fresh view for the sidebar tree

As shown in the screenshot to the right, we updated the style of the sidebar tree so users can better interact with the tree. For instance, there is more click space around the name to select a folder (rather than having to click the name itself). New icons have also been added.

Upload unlimited file sizes

This major update has improved upload performance, and even more importantly, increased the maximum file size limit to available storage space.

General performance enhancements

Numerous performance enhancements have been added:

Faster loading of pages due to a smaller amount of code to load.
Improved database query efficiency.
For large collections, smarter decisions on which optimizations are chosen.
On-brand field name customization
In the previous release we introduced an On-brand feature where only authorized users can view off-brand images. This release allows the renaming of the 'On-brand' field from the Preferences administration page. Clients reported that this handy field/feature had uses beyond just branding, where calling it something else can be quite useful.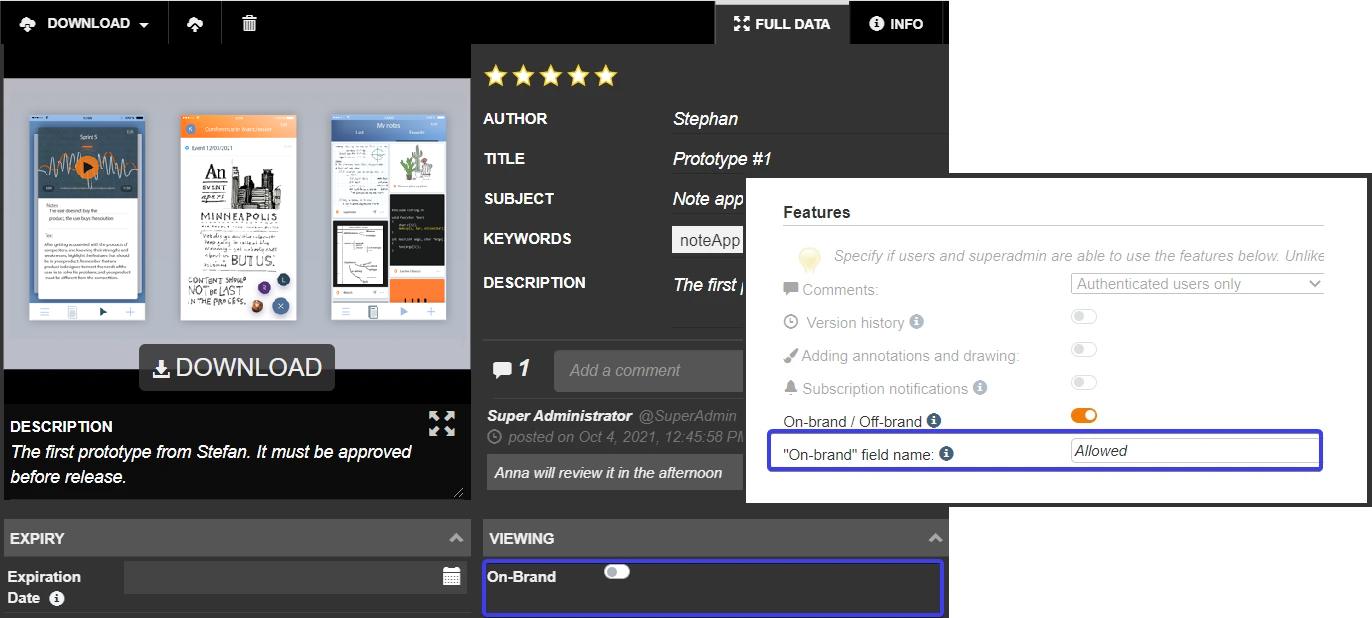 Image rotation
It is possible now to rotate the image. Go to the full image preview and find the two rotation buttons in the upper left corner.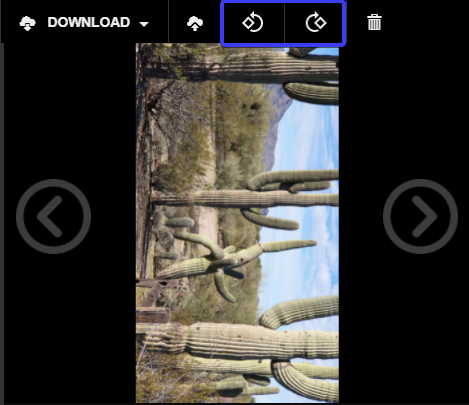 Other enhancements
Tools and Settings pages opening in the same tab. They may be opened the old way in a new tab by right-clicking them.
Ability to turn off processing of video files (On-prem and Enterprise only).
Less confusing warning when renaming large folders.
Fixed the display order of grouped images after editing some of them in full view mode.
Fixed grid columns order being rearranged on a browser refresh.
Improved reading of 'date taken' and other Exif data for videos.
Fixed map display when opening shared links.
Fixed a text break issue in PDF reports.
---